Elite football injury risk explained: translating 1000 hour injury rates into expected weekly injury counts
M. Buchheit & Derek McHugh. Elite football injury risk explained: translating 1000 hour injury rates into expected weekly injury counts. Sports Performance & Science Reports, Jan 2022, #155, V1.
Full text here
and a deeper dive into hamstring injuries here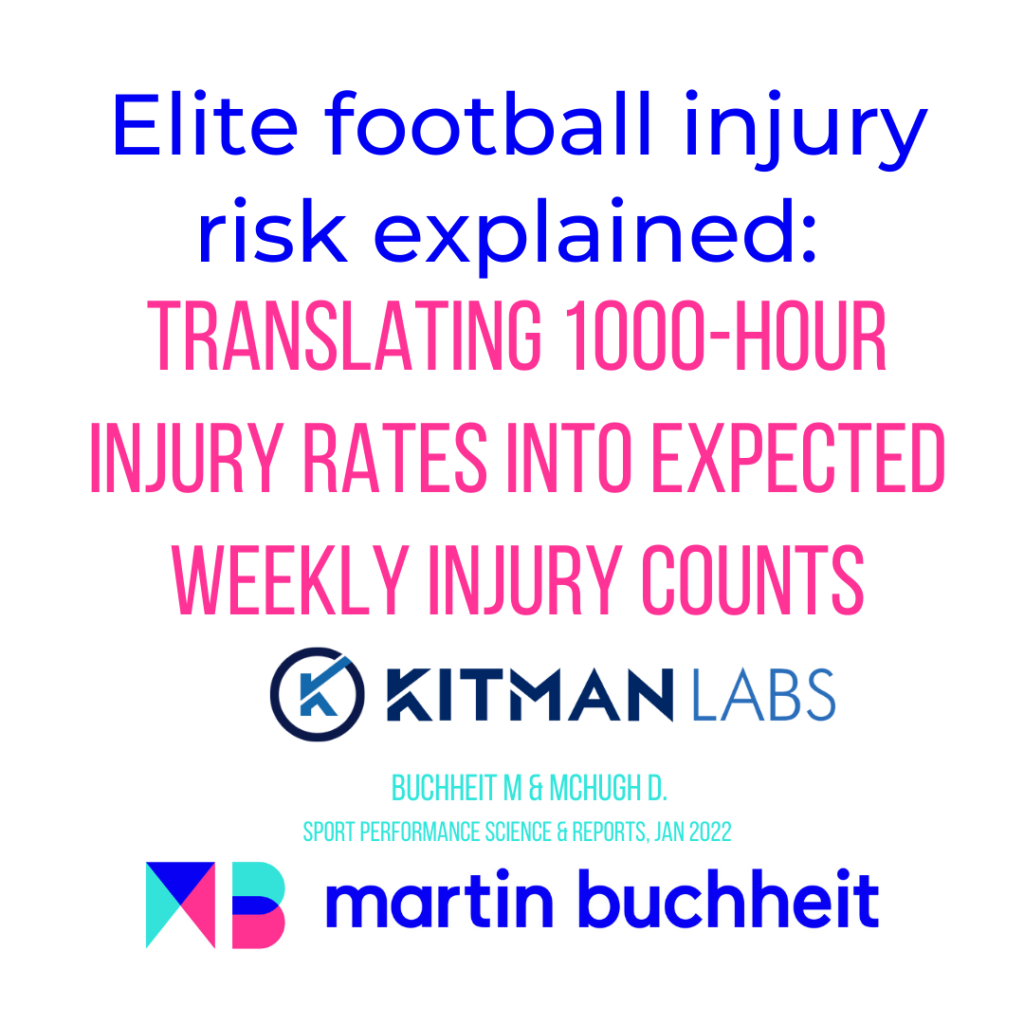 Headline
Injury risk assessment and prevention strategies were reported to be the first topics of interest for practitioners working in elite football – clearly ahead of other important areas such as load and player monitoring, developing and assessing players' value, and decision-making approaches [1]. This is likely related to the fact that injuries in elite football have now been shown to negatively impact team performance and result in significant financial costs [7].
The wealth of research carried out on injury demographics and analytics has continued to grow over recent years, with large data sets on injury type, location, frequency and duration available. Popular methods among practitioners for data-driven injury analysis involve counting the frequency and severity (days lost) of past injuries, as well as their incidence rates based on the time exposed to games and training sessions [8]. While those published studies are likely to be of interest to practitioners trying to assess their own situation against those standards, it is sometimes difficult to put those numbers into practice. For example, the average injury rate is reported to be between 6 and 8 [6, 8] injuries per 1000 hours of combined training and match exposure, but how does this translate into a weekly rate of injuries for a typical squad of 25 players?
Aim
In this short paper, we aim to explain those reported injury rates in simple terms, so that a team may find them more useful in assessing their own injury context. This is not meant to be a rigorous analysis; instead, it is meant to build intuition and understanding in practical terms when these numbers are quoted. To do this, we consider different scenarios representing training practices at the elite level of football [2]. We express the injury rate per actual week of (training and match) exposure rather than the typical 1000 hours of exposure.