Plan Your Work and Work Your Plan
In sports, programming physical training contents alongside technical and tactical sequences is supposed to be an easy practice, especially when you have been doing this for a long time. If you're working with Olympic sports and preparing for some yearly competition, there are a lot of training programming and periodization resources, and a lot that can be done to develop athletes to reach their maximum potential. In team sports, competing for 6 to 10 months throughout the year, however, the planning practices and approaches are dramatically different and can vary widely from team to team.
THE REALITY OF PLANNING
 What about fitting your strength block periodization in between the cup game on Tuesday and the away game next week when you play Commanders FC, the team that is just fighting with you at the bottom of the ladder? When do you program your speed sessions, before or after the extensive travels of the international break? Do you run the aerobic conditioning phase when players return from holidays the week before the season kick-off, or during the Christmas break which could be the only week off you may have (if you are lucky not to compete in the UK!!)?
All coaches and backroom practitioners will tell you that the typical programming unit composed of a large macrocycle including some medium-term mesocycles is generally reduced to game fixtures dynamics in team sports. Outside of some parts of the pre-season (and not always with the extensive summer tours that some big teams have to deal with), the challenge is more or less to reach an acceptable level of metabolic and neuromuscular fitness and manage players training status throughout the season in relation to game participation, travels and injuries.
But the reality is that you don't hear much about block training anymore, and periodization may only come into play when discussing Tuesday vs Wednesday training contents!! In fact, periodization at this point comes back to how you design your training days in relation to 1) the distance from the last game, 2) the proximity to the next, and 3) which are the physical capacities that you may be able to target within this context.
THINGS CHANGE
Beyond being able to adapt their training philosophy, coaches have to embrace change and enjoy being comfortable with being uncomfortable. Things in fact change even more often than you think. Playing an extra cup match during the week, playing on Friday evening rather than on Sunday as usual, moving the match earlier after lunch instead of after 8 pm as per usual… things suddenly get way more complicated, as you still have to run the sessions every day and keep doing the other millions of things you have to do.
INDIVIDUALISATION
What if on top of all of this you desperately want to tailor your approach to better manage players individually, focusing on the load compensation of the substitutes, optimize player rotations when games start to be more and more congested, integrate special treatments and contents in relation to some of your key players' preferences/needs, or look after the young athletes who never play but could definitely be the future of the squad?
VARYING COMPETITION DEMANDS
Additionally, with different competitions (League, Cup, International events), different opposition, different tactics and different weather you very likely have different expectations in terms of both physical preparation and performance output from a week to the next; the stimulus required each week is then likely to consistently change… which adds another layer of complexity.
CHAOS
It is because of all the above-mentioned reasons, and many more not commented on here, that I like to talk about the 'chaos' that exists when it comes to programming in team sports. With the different mentors and some of the close colleagues I had, I have learnt early enough that we'd rather aim for the least bad option in this specific context. Overall, you try to implement what you can rather than what you should (if you were following the classical training periodization books). The famous quotes "Every battle is won before it is fought." (Chinese military strategist Sun Tzu) or "Always plan ahead. It wasn't raining when Noah built the ark" (Benjamin Franklin) have since been inspirational for me.
CHAOS
I have always seen good planning as the antidote for chaos. The more you plan, the greater you can anticipate things, the more you can gain confidence in your process and the less you leave the chance for committing errors. The better the plan, the better the work, the better players' performance and health status, and hopefully in turn the better the team performance.
To conclude, whatever the organisation you currently work in, whether it is better educating coaches, assigning someone specifically to this global anticipation task or using a dedicated technology that will make the biggest impact is likely dependent on your current context. However, there are for sure areas you can be better prepared for, and many actions that can be taken to prepare better your athletes! Be prepared to be prepared, "Plan your work, and work your plan" as said Napoleon Hill.
We believe the next wave in the industry of performance science will be using data to look forwards not backwards. The age of performance intelligence is here and to push forward teams need better ways to not just assess their plan but to plan their work, work their plan and be able to constantly evaluate and adjust this based on the many complex factors we have to deal with every day.
Feedback welcomed as always: mbuchheit@kitmanlabs.com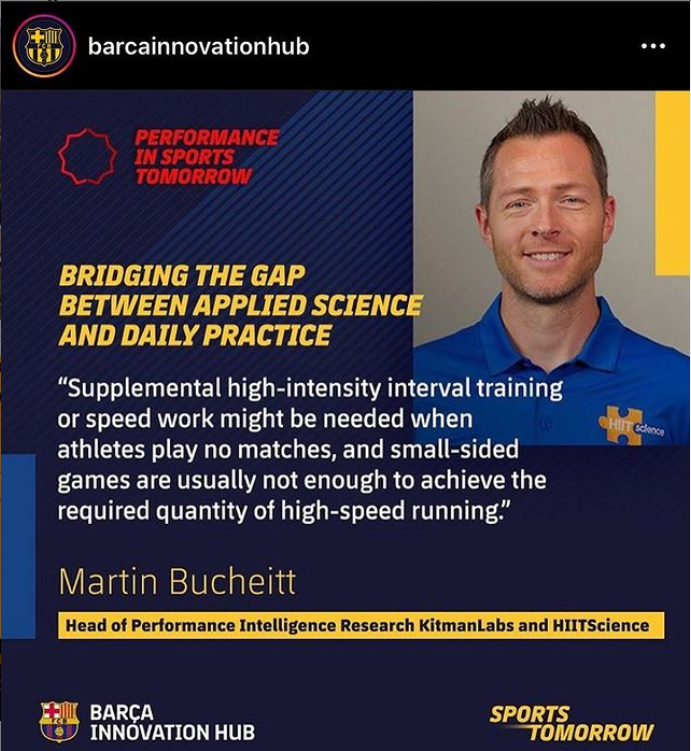 If you are interested in learning more, I recently gave a talk at the FC Barcelona Performance in Sports Tomorrow Conference (thank you FCB for allowing us to share!) on a very simple yet efficient way to face the chaos and integrate different programming levels when preparing daily sessions including match fixtures, playing minutes, player profiles and special needs, and daily context.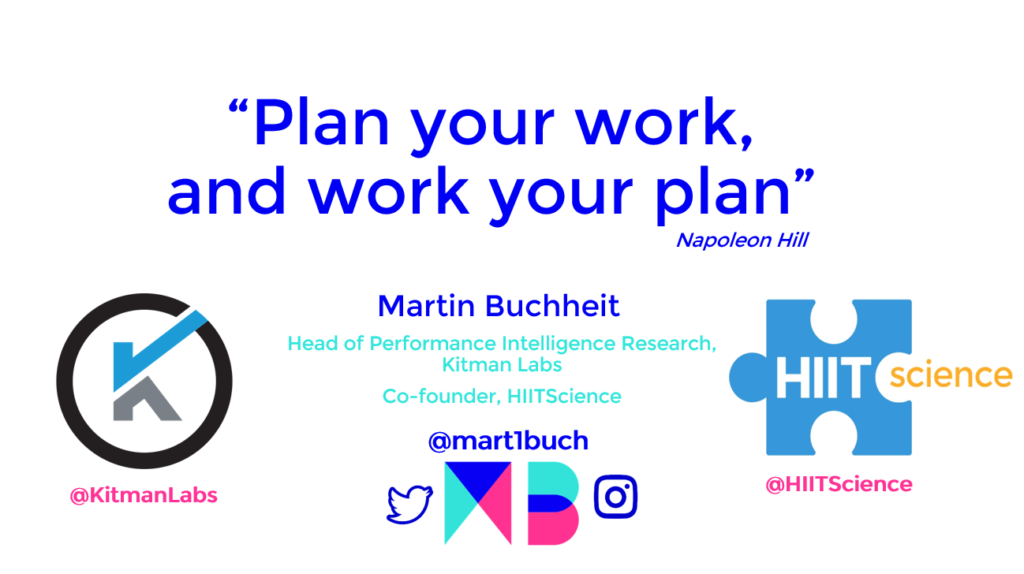 Key Takeaways in the Presentation
Planning is challenging in elite soccer given the myriads of parameters to be accounted for that keep changing randomly every second day
In addition to this "chaos of programming" challenge, the numerous practitioners working in clubs need to find efficient ways to work together, while combining their actions and sharing pieces of information to make better and informed decisions
Athlete management systems are required in elite football since they allow both merging information between practitioners and departments, and supporting a minimum level of anticipation to face the "Chaos"
There are a few levels of planning that can be anticipated, irrespective of your coaching and training philosophy
The more you plan ahead, the better you can control the "chaos", the less you leave to chance and error. This helps to deliver a better program overall, which improves players' performance and health, and hopefully turns into an improved team chance for success